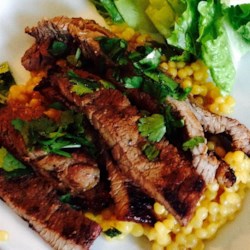 Bo Nuong Xa
"Marinated lemon grass beef skewers that can be broiled or grilled. This is a traditional Vietnamese dish, best if dipped in Nuaoc Cham sauce."
Ingredients
2 teaspoons white sugar
2 tablespoons soy sauce
1 teaspoon ground black pepper
2 cloves garlic, minced
2 stalks lemon grass, minced
2 teaspoons sesame seeds
1 1/2 pounds sirloin tip, thinly sliced
skewers
12 leaves romaine lettuce
fresh cilantro for garnish
fresh basil for garnish
fresh mint for garnish
thinly sliced green onion for garnish
Directions
In a medium bowl, mix the sugar, soy sauce, pepper, garlic, lemon grass, and sesame seeds. Place the meat in the dish, and stir to coat. Cover, and refrigerate for 4 hours.
Preheat grill for high heat. Discard marinade, and thread meat onto skewers accordion style.
Brush grill grate with oil, and discard marinade. Arrange skewers on the grill. Cook 5 minutes per side. Serve hot from skewers, or remove from skewers and serve on lettuce leaves. Garnish with cilantro, mint, basil, and sliced green onions.