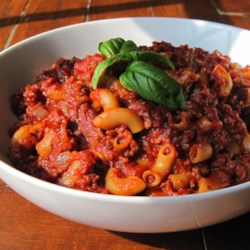 Goulash
"Macaroni and beef served steaming hot with a delicious assortment of vegetables and seasonings."
Ingredients
1 pound macaroni
1 1/2 pounds lean ground beef
1 small yellow onion, diced
1 green bell pepper, diced
1 cup sliced mushrooms
1 (8.75 ounce) can whole kernel corn, drained
1 (8 ounce) can peas, drained
1 (14.5 ounce) can stewed tomatoes, cut in half and drained
1 (14.5 ounce) can crushed tomatoes
4 (6 ounce) cans tomato paste
2 (15 ounce) cans tomato sauce
24 fluid ounces water
1 tablespoon chopped garlic
1 tablespoon grated Parmesan cheese
1 tablespoon dried parsley
1 teaspoon salt
1 teaspoon black pepper
1/8 teaspoon white sugar
Directions
Bring a large pot of lightly salted water to a boil. Add macaroni and cook for 8 to 10 minutes or until al dente; drain.
In a large saucepan, brown the ground beef with the onion, green pepper, and mushrooms; drain. Add corn, peas, stewed tomatoes, crushed tomatoes, tomato paste, tomato sauce, and water. Stir and bring to boil over medium heat. Mix in garlic, parmesan cheese, parsley, salt, pepper, sugar and simmer for 20 to 25 minutes.
Mix together cooked macaroni and meat sauce. Serve hot or refrigerate for later.