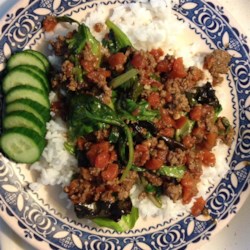 Vietnamese Beef And Lettuce Curry
"A delicious mild curry to serve with steamed or boiled rice that's relatively simple to prepare. The use of lettuce in cooked meals is also an interesting novelty for Western tastes used to having it only in salads and buffet dishes."
Ingredients
1 cup uncooked long grain white rice
2 cups water
5 teaspoons white sugar
1 clove garlic, minced
1/4 cup fish sauce
5 tablespoons water
1 1/2 tablespoons chile sauce
1 lemon, juiced
2 tablespoons vegetable oil
3 cloves garlic, minced
1 pound ground beef
1 tablespoon ground cumin
1 (28 ounce) can canned diced tomatoes
2 cups lettuce leaves, torn into 1/2 inch wide strips
Directions
In a pot, bring the rice and water to a boil. Reduce heat to low, cover, and simmer 25 minutes.
In a bowl, mash together the sugar and 1 clove garlic with a pestle. Mix in the fish sauce, water, chile sauce, and lemon juice.
Heat the oil in a wok over high heat, and quickly saute the 3 cloves garlic. Mix the beef into the wok, season with cumin, and cook until evenly brown. Pour in the tomatoes and about 1/2 the fish sauce mixture. Reduce heat to low, and simmer 20 minutes, until thickened.
Toss the lettuce into the beef mixture. Serve at once over the cooked rice with the remaining fish sauce mixture on the side.