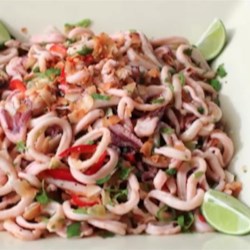 Coconut Calamari Salad
Ingredients
1 pound cleaned calamari, sliced into thin rings
1 small Serrano pepper, minced
1 red Fresno pepper, thinly sliced
1/4 cup lime juice
3 tablespoons chopped green onion, divided
2 tablespoons coconut milk
1 tablespoon fish sauce, or to taste
1 tablespoon rice wine vinegar
1 teaspoon palm sugar
2 tablespoons vegetable oil
2/3 cup toasted unsweetened coconut flakes
1/2 cup chopped cilantro
1 teaspoon lime juice
Directions
Combine calamari, serrano pepper, Fresno pepper, lime juice, 2 tablespoons green onion, coconut milk, fish sauce, rice wine vinegar, and palm sugar together in a large bowl. Cover the bowl with plastic wrap and refrigerate until flavors blend, 2 to 3 hours. Pour calamari mixture into a colander set over a sink or bowl and drain, about 5 minutes. Discard liquid.
Heat oil in a large skillet over high heat until oil smokes. Cook and stir calamari mixture in hot oil until calamari turns white and firms, about 1 minute. Pour mixture into a large shallow serving bowl and cool to room temperature. Wrap and refrigerate until cold, about 1 hour.
Toss calamari and any accumulated juices together in the bowl. Add coconut flakes, cilantro, remaining green onion, and lime juice; stir.