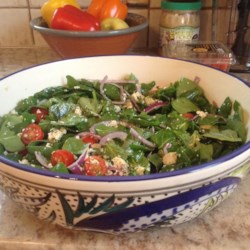 Marinated Tofu Salad with Capers
Recipe By:STONESOUP
"This fresh and satisfying vegetarian salad keeps well and never fails to please. Wholesome, delicious, and company-worthy. A very pretty salad that can be made up in a hurry. Makes great leftovers and improves with longer marination. If marinated tofu is stored separately, this makes a fantastic and filling boxed lunch choice. Try adding a can of drained, flaked white tuna for variety."
Ingredients
Marinade:
1/4 cup olive oil
2 tablespoons white vinegar
1 teaspoon salt
1 teaspoon basil
1/2 teaspoon ground black pepper
1/2 teaspoon oregano
Salad:
1 (12 ounce) package firm tofu, drained and cut into 1/2-inch cubes
2 tablespoons capers
1 head leafy dark green lettuce – torn, washed, and spun dry
10 cherry tomatoes, halved
1/4 red onion, thinly sliced for garnish (or as preferred)
Directions
Whisk olive oil, vinegar, salt, basil, pepper, and oregano together in a bowl.
Put tofu cubes in a large bowl. Pour marinade over tofu; add capers. Marinate tofu, stirring occasionally, for at least 10 minutes.
Combine lettuce and tomatoes in a separate large bowl. Pour tofu mixture over lettuce and toss. Garnish with red onion.