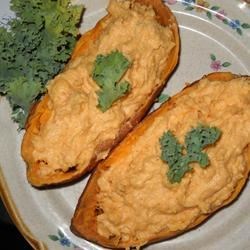 Twice Baked Sweet Potatoes
"These twice baked tubers are both sweet and spicy."
Ingredients
6 sweet potatoes
1/4 cup butter
1 small onion, minced
1 tablespoon packed brown sugar
3/4 tablespoon orange zest
3/4 teaspoon salt
1/4 teaspoon ground cumin
1/4 teaspoon ground cinnamon
1/4 teaspoon ground black pepper
1/8 teaspoon ground allspice
1/4 cup sour cream
2 tablespoons chopped fresh cilantro
2 egg whites
Directions
Preheat oven to 400 degrees F (200 degrees C).
Place potatoes on baking sheet and bake until just softened, about 1 hour. Allow to cool for 15 minutes.
Slice off 1/2 inch lengthwise from tops of potatoes. Scoop out pulp, leaving 1/4 inch thick shells. Reserve 4 shells; discard remaining 2. Mash pulp.
In a small skillet, melt butter over medium heat. Add onion; cook until softened, about 8 minutes. Add brown sugar, zest, salt, cumin, cinnamon, pepper and allspice. Cook until sugar melts, about 2-3 minutes.
Combine onion mixture with mashed sweet potatoes. Stir in sour cream and cilantro.
In bowl with mixer on high speed, beat egg whites until soft peaks form. Gently fold whites into sweet potato mixture.
Spoon or pipe mixture back into shells. Place on baking sheets; bake until filling is just set and tops begin to brown, about 15 to 20 minutes.