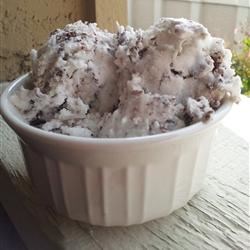 Dairy-Free Coconut Candy Bar Ice Cream
"This ice cream is great for lactose intolerant or dairy-allergic people."
Ingredients
1 (15 ounce) can cream of coconut
1 (13.5 ounce) can coconut milk
1 cup unsweetened flaked coconut
2 (2 ounce) bars dark chocolate, chopped
Directions
Whisk cream of coconut, coconut milk, and flaked coconut in a bowl. Cover and refrigerate for 8 hours or more.
Pour the chilled mixture into an ice cream maker and freeze according to manufacturer's directions until it reaches "soft-serve" consistency.
Melt the chocolate in a microwave-safe glass or ceramic bowl in 30-second intervals, stirring after each melting, for 1 to 3 minutes (depending on your microwave). Slowly drizzle chocolate into ice cream what machine is churning. Transfer ice cream to a one- or two-quart lidded plastic container; cover surface with plastic wrap and seal. For best results, ice cream should ripen in the freezer for at least 2 hours or overnight.