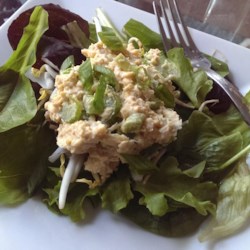 Mock Tuna Salad
This is a chickpea spread that tastes like tuna salad!  Great served in a sandwich.
Ingredients
1 (19 ounce) can garbanzo beans (chickpeas), drained and mashed
2 tablespoons mayonnaise
2 teaspoons spicy brown mustard
1 tablespoon sweet pickle relish
2 green onions, chopped
salt and pepper to taste
Directions
In a medium bowl, combine garbanzo beans, mayonnaise, mustard, relish, chopped green onions, salt and pepper. Mix well.