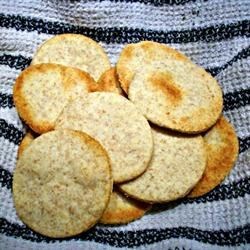 Swedish Rye Cookies
"This cookie has been hung on the family Christmas tree for generations. Guests take a treat from the tree and sit down for a cup of cheer. The first request from family members who cannot be home for Christmas is that we send a box of these as soon as possible."
Ingredients
1/2 cup butter
1/4 cup white sugar
1/2 cup rye flour
1 cup all-purpose flour
1/8 teaspoon baking powder
1/4 teaspoon salt
3 tablespoons water
Directions
Preheat oven to 375 degrees F (190 degrees C).
Cream together butter and sugar until light and fluffy. Stir in rye flour, all-purpose flour, baking powder and salt. Mix well and add enough water to moisten dough.
Roll out onto floured board. The thinner the dough, the crispier the cookies will be. Cut into 2 1/2 inch rounds using cutter or floured glass. Cut small hole off center with a thimble (to hang on tree when done).
Bake on ungreased cookie sheet at 375 degrees F (190 degrees C) or until slightly brown. Cool and hang on tree with ribbon or yarn.