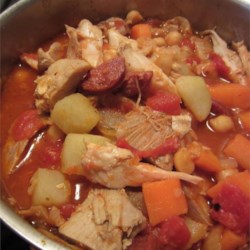 Spanish-Style Chicken Stew
"A thick, spicy and warming stew for the coldest of winter evenings."
Ingredients
2 tablespoons olive oil
3 red onions, cut into 1-inch cubes
3 cloves garlic, coarsely chopped
1 (28 ounce) can Italian plum tomatoes
1 (15 ounce) can garbanzo beans
2 cups water
2 teaspoons paprika
1 teaspoon crushed red pepper flakes
salt and pepper to taste
2 carrots, cut into chunks
1 potato, cubed
4 chicken thighs
4 ounces Spanish chorizo sausage, casing removed, sliced 1/4-inch thick (see note)
Directions
Heat olive oil in a large saucepan over medium-high heat. Stir in onions and garlic, cook until the onion has softened and turned translucent. Pour in tomatoes, garbanzo beans, and water; season with paprika, red pepper flakes, salt, and pepper. Stir in carrots and potatoes, then place chicken thighs skin-side up on top of the vegetables.
Bring to a boil over high heat, then reduce heat to medium, cover, and simmer until the chicken is tender, about 25 minutes.
Preheat oven to 400 degrees F (200 degrees C).
Remove chicken from the stew and set aside. Stir in the chorizo slices, then pour the stew into a glass baking dish. Place the chicken thighs on top, skin-side up.
Bake in preheated oven until the stew has thickened and the chicken skin is crispy, about 15 minutes.