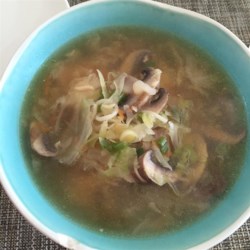 Long Soup
"A touch of East Asian in this soup, hope that you will like it as much as I do."
Ingredients
1 1/2 tablespoons vegetable oil
1/4 small head cabbage, shredded
4 ounces lean pork tenderloin, cut into thin strips
1/2 teaspoon minced fresh ginger root
6 cups chicken broth
2 tablespoons soy sauce
8 fresh green onions, chopped
4 ounces dry Chinese egg noodles
Directions
Using a large skillet or wok, heat oil over medium-high heat. Add cabbage and pork; stir-fry until pork is no longer pink inside, approximately 5 minutes. Stir in ginger.
Add chicken broth and soy sauce and bring to a boil. Reduce heat to low; simmer 10 minutes, stirring occasionally.
Stir in onions and add noodles. Cook until noodles are tender, 2 to 4 minutes more.