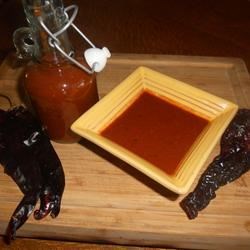 Mexican Hot Sauce
"This is my version of my favorite taco wagon's 'earthy' hot sauce of which I can never get enough. It is a little time consuming, but well worth it. I put it on everything from eggs to tacos, quesadillas, and salads. You can use any combination of chiles (cascabel, chipotle, Californian, New Mexican). For a hotter sauce, you can use all hot New Mexico chiles or add a few dried arbol chiles. For a tangier sauce, add the juice of 1 lime."
Ingredients
1 dried guajillo chile
1 dried chile negro (pasilla) pepper
2 dried New Mexico chile pods
1 1/2 cups warm water
2 cloves garlic, pressed
1 teaspoon ground cumin
1 teaspoon salt
1 teaspoon packed brown sugar
1 teaspoon white vinegar
Directions
Remove stems and seeds from the guajillo chile, pasilla chile, and the New Mexico chile pods.
Heat a cast-iron skillet over medium heat. Toast the chile pods in the skillet until lightly brown, about 2 to 3 minutes. Transfer the chile pods to a small bowl and pour the warm water over them. Allow chiles to soak about 40 minutes.
Remove the guajillo and New Mexico chiles from the water. Use a spoon to scrape the pulp from the skin. Discard the skin. Place the pulp of the guajillo chile and the New Mexico chiles in a food processor with the pasilla chile and the water in which the peppers soaked. Puree in the food processor until all ingredients are combined. Add the garlic, cumin, salt, brown sugar, salt, and vinegar. Puree the mixture until smooth.