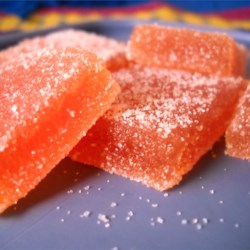 Peach Gelee Candy
"This is an old fashioned, handcrafted candy that takes a little time and finesse to pull off. It's simple and sweet, but looks and tastes like something you're only suppose to enjoy a few times a year."
Ingredients
1 pound ripe peaches – peeled, pitted and sliced
1 tablespoon lime juice
2 cups white sugar, divided
3 tablespoons liquid pectin
1/2 cup white sugar, for sprinkling
Directions
Line an 8×8-inch baking dish with plastic wrap.
Combine peaches and lime juice in a blender. Puree until very smooth.
Pour into a saucepan over medium heat, stir in 1/2 cup sugar, and bring to a boil. Cook, stirring continuously, until thickened, about 15 minutes.
Stir in remaining 1 1/2 cups sugar and pectin. Using a thermometer, heat to 205 degrees F (96 degrees C) and cook, stirring continuously, for another 10 minutes. Remove from heat.
Pour peach puree into the prepared baking dish. Shake gently and tap on the countertop to remove any air bubbles. Cover and refrigerate at least 8 hours or overnight.
Sprinkle about half the 1/2 cup of sugar over a silicone baking mat and invert the peach gelee on top. Remove plastic wrap and sprinkle top with sugar. Trim off any uneven edges and cut gelee into 25 squares.