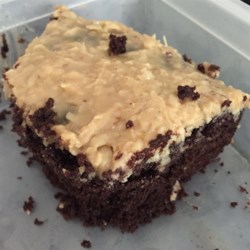 Dark German Chocolate Cake
"Dark German chocolate cake to die for."
Ingredients
3 cups white sugar
2 3/4 cups all-purpose flour
1 cup unsweetened cocoa powder
2 tablespoons unsweetened cocoa powder
2 1/4 teaspoons baking soda
2 1/4 teaspoons baking powder
1 teaspoon salt
1 1/2 cups milk
3/4 cup vegetable oil
3 eggs
1 tablespoon vanilla extract
1 1/2 cups hot water
Directions
Preheat oven to 350 degrees F (175 degrees C). Line the bottom and sides of a deep 14×17-inch baking sheet with parchment or waxed paper.
Sift sugar, flour, 1 cup plus 2 tablespoons cocoa powder, baking soda, baking powder, and salt together in a large bowl. Transfer to a stand mixer fitted with a whisk attachment; whisk dry ingredients together on low.
Whisk milk, vegetable oil, eggs, and vanilla extract together in a separate medium bowl. Add to the flour mixture and mix at low speed until well incorporated, about 5 minutes. Gradually add hot water while mixer is on low speed until just combined. Pour batter into the prepared baking sheet.
Bake in the preheated oven until a toothpick inserted in the center of the cake comes out clean, 25 to 30 minutes. Let cake cool in the pan for about 1 hour.