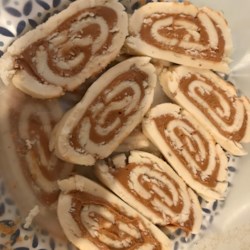 Potato Candy from Ohio
"My mom always made this for the holidays when I was a kid in Ohio. You can use left over potatoes from last night's supper or just throw a potato in the microwave for 5 minutes, cool, and add butter and a little salt (no pepper please). The powdered sugar and peanut butter filling goes so well together. The potatoes help the candy hold it's shape and give it substance."
Ingredients
1 (2 pound) package confectioners' sugar
1/2 cup leftover mashed potatoes (prepared with butter, salt, and milk)
1 1/2 tablespoons butter
1 tablespoon vanilla extract
3 tablespoons confectioners' sugar, or as needed
1 (18 ounce) jar creamy peanut butter
Directions
Combine confectioners' sugar, mashed potatoes, butter, and vanilla extract in a large bowl until a thick dough forms. Refrigerate dough until chilled, about 30 minutes. Stir extra confectioners' sugar into dough if too moist.
Spread a large sheet of waxed paper on the counter. Sprinkle with confectioners' sugar.
Dust rolling pin with confectioners' sugar. Roll chilled dough on prepared waxed paper into a 1/4-inch thick rectangle.
Spoon peanut butter into a microwave-safe bowl. Heat in microwave on High until slightly softened, 20 to 30 seconds.
Spread softened peanut butter onto dough.
Roll dough, starting from long end, into a jelly roll shape.
Wrap the roll in waxed paper and refrigerate until firm, about 2 hours. Slice into 1/4-inch slices.