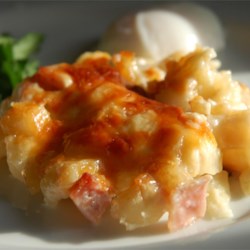 Cheesy Ham and Hash Brown Casserole
May be served with or without diced ham could use bacon or sausage. Quick and easy to make, not to mention delicious!
Ingredients
1 (32 ounce) package frozen hash brown potatoes
8 ounces cooked, diced ham
2 (10.75 ounce) cans condensed cream of potato soup
1 (16 ounce) container sour cream
2 cups shredded sharp Cheddar cheese
1 1/2 cups grated Parmesan cheese
Directions
Preheat oven to 375 degrees F (190 degrees C). Lightly grease a 9×13 inch baking dish.
In a large bowl, mix hash browns, ham, cream of potato soup, sour cream, and Cheddar cheese. Spread evenly into prepared dish. Sprinkle with Parmesan cheese.
Bake 1 hour in the preheated oven, or until bubbly and lightly brown. Serve immediately.