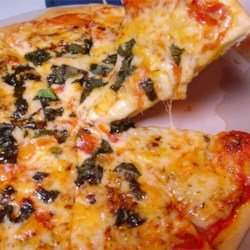 New York Style Pizza
"This is a no frills New York Pizza with heaps of mozzarella cheese and fresh basil. Use it as a base and add your favorite pizza toppings if you wish."
Ingredients
1 teaspoon active dry yeast
2/3 cup warm water (110 degrees F/45 degrees C)
2 cups all-purpose flour
1 teaspoon salt
2 tablespoons olive oil
1 (10 ounce) can tomato sauce
1 pound shredded mozzarella cheese
1/2 cup grated Romano cheese
1/4 cup chopped fresh basil
1 tablespoon dried oregano
1 teaspoon red pepper flakes
2 tablespoons olive oil
Directions
Sprinkle the yeast over the surface of the warm water in a large bowl. Let stand for 1 minute, then stir to dissolve. Mix in the flour, salt and olive oil. When the dough is too thick to stir, turn out onto a floured surface, and knead for 5 minutes. Knead in a little more flour if the dough is too sticky. Place into an oiled bowl, cover, and set aside in a warm place to rise until doubled in bulk.
Preheat the oven to 475 degrees F (245 degrees C). If using a pizza stone, preheat it in the oven as well, setting it on the lowest shelf.
When the dough has risen, flatten it out on a lightly floured surface. Roll or stretch out into a 12 inch circle, and place on a baking pan. If you are using a pizza stone, you may place it on a piece of parchment while preheating the stone in the oven.
Spread the tomato sauce evenly over the dough. Sprinkle with oregano, mozzarella cheese, basil, Romano cheese and red pepper flakes.
Bake for 12 to 15 minutes in the preheated oven, until the bottom of the crust is browned when you lift up the edge a little, and cheese is melted and bubbly. Cool for about 5 minutes before slicing and serving.