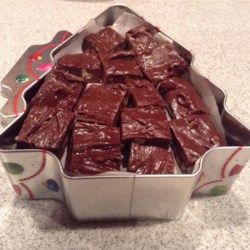 Microwavable Chocolate Fudge
Recipe By:
Alaina Schumann
"Two batches can feed a class of thirty right before lunch (with leftovers). Very good and chocolaty. Mmm Mmm Mmm!!"
Ingredients
2 cups semisweet chocolate chips
1 (14 ounce) can sweetened condensed milk
2 teaspoons vanilla extract
1 1/2 cups chopped walnuts (optional)
1 cup miniature marshmallows
Directions
Grease an 8×8 inch square pan.
Place the chocolate chips and sweetened condensed milk into a medium sized microwavable bowl. Microwave on high for 2 to 3 minutes, stirring occasionally, until smooth. Stir in the vanilla, then fold in the walnuts and marshmallows. Spread evenly into the prepared pan. Chill until set.