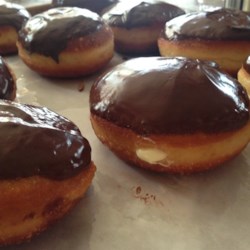 Polish Doughnuts
"A yeast doughnut coated with sugar."
Ingredients
1 (0.6 ounce) cake compressed fresh yeast
3 tablespoons warm water (110 degrees F/45 degrees C)
1 teaspoon white sugar
3 cups milk
3/4 cup margarine
5 egg yolks
3/4 cup white sugar
8 cups all-purpose flour
8 cups shortening for frying
1/4 cup white sugar
Directions
Smash up yeast in a medium bowl. Add water and 1 teaspoon sugar, and mix until pasty. Set aside. Let rise until spongy.
Scald milk with margarine. Cool to lukewarm.
Beat egg yolks. Add 3/4 cup sugar, and mix thoroughly. Add the cooled scalded milk mixture, and beat until foamy. Mix in yeast mixture. Add flour gradually, beating after each addition. Beat until thick and springy. Add flour only as needed to make a soft dough; too much will make hard doughnuts. Cover, and let rise until doubled.
Shape dough into small balls. Let rise on floured waxed paper until doubled
In a deep-fryer, heat shortening to 375 degrees F (190 degrees C). Fry until brown. Roll in sugar. Cool.