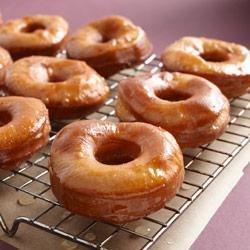 Spudnuts
"This is an old family favorite, handed down for years, the outside of the doughnut is crisp and the inside is light and chewy. This does make a HUGE batch, first timers may want to half it. These are worth the effort."
Ingredients
4 boiling potatoes, peeled and chopped
3 cups milk
1 cup white sugar
1 cup shortening
1 teaspoon salt
6 cups all-purpose flour
1 tablespoon grated lemon zest
3 tablespoons lemon juice
1 cup warm water (110 degrees F/45 degrees C)
4 1/2 teaspoons active dry yeast
6 eggs
1/2 teaspoon ground nutmeg
Directions
In a small saucepan, cover peeled potatoes with water. Bring water to a boil and cook until tender, about 15 minutes. Let cool and mash.
Scald the milk and add the sugar, shortening, 2 cups mashed potatoes and salt. Mix well.
In an upright mixer with a dough hook attachment. Add the potato mixture, flour, lemon juice, lemon zest, water, yeast eggs and nutmeg. Mix until well mixed, dough will be a bit sticky. Cover and let rise until doubled in size.
Roll dough out on a lightly floured surface and cut with a doughnut cutter. Place the cut doughnuts on a greased baking sheet, cover and let rise until doubled in size.
In a hot fryer or deep fry pan heat shortening or canola oil to 375 degrees F (190 degrees C). Carefully place 2 to 3 doughnuts in pan. Turn when lightly golden. Lift out when done and drain on paper towels. Glaze or roll in sugar.