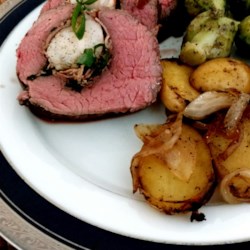 Beef Tenderloin Stuffed with Lobster
"A recipe that will impress everyone. It should, because of the cost alone, but it's flavor makes it worth every penny."
Ingredients
3 whole lobster tails
4 pounds beef tenderloin filet
1 cup butter
2 teaspoons lemon juice
1 teaspoon garlic powder
3 cups white wine
1/4 cup olive oil
1 tablespoon cracked black pepper
1 teaspoon garlic salt
Directions
Preheat oven to 425 degrees F (220 degrees C).
Bring a large pot of water to a boil. Add lobster tails, and cook for 5 to 6 minutes. Remove from water, rinse and remove shells. Cut tail meat in half lengthwise. Cut tenderloin lengthwise, to within 3/4 inch of the bottom. Fill center of meat with lobster tails.
In a saucepan, melt butter with lemon juice, garlic powder and 1 cup of the wine. Drizzle about 1/4 of the butter mixture over the lobster. Tie the tenderloin with kitchen string. Rub tenderloin with olive oil and place in a roasting pan. Pour remaining wine in bottom of pan. Sprinkle with cracked pepper.
Bake in preheated oven for 45 minutes to 1 hour. Stir garlic salt into remaining butter mixture, and serve with slices of roast.