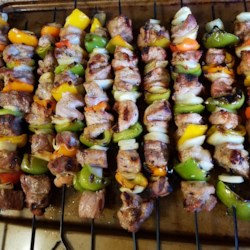 Souvlaki
"Souvlaki is a Greek specialty made with tender cuts of meat. In this pork kebab recipe, the meat is marinated in a lemony olive oil mixture. Serve with rice pilaf and a Greek salad."
Ingredients
1 lemon, juiced
1/4 cup olive oil
1/4 cup soy sauce
1 teaspoon dried oregano
3 cloves garlic, crushed
4 pounds pork tenderloin, cut into 1 inch cubes
2 medium yellow onions, cut into 1 inch pieces
2 green bell peppers, cut into 1 inch pieces
skewers
Directions
In a large glass bowl, mix together lemon juice, olive oil, soy sauce, oregano, and garlic; add pork, onions, and green peppers, and stir to coat. Cover, and refrigerate for 2 to 3 hours.
Preheat grill for medium-high heat. Thread pork, peppers, and onions onto skewers.
Lightly oil grate. Cook for 10 to 15 minutes, or to desired doneness, turning skewers frequently for even cooking.