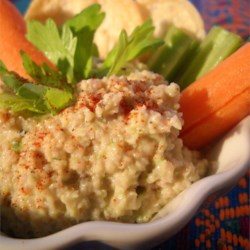 Deviled Smoked Ham Spread
"The best deviled ham. Try mixing in black olives as well! Serve on bread or toast."
Ingredients
2 cups mayonnaise
1 (8 ounce) jar sweet pickle relish
1 tablespoon prepared mustard
1 teaspoon freshly ground black pepper
1 pinch salt, or to taste
3 pounds smoked ham, cut into chunks
6 hard-cooked eggs
6 green onions, chopped
1 small green bell pepper, diced
3 stalks celery, diced
Directions
Stir mayonnaise, sweet pickle relish, mustard, black pepper, and salt in a large bowl until thoroughly blended.
Grind smoked ham, hard-cooked eggs, green onions, green bell pepper, and celery together into a bowl with a food grinder, spooning tablespoons of salad dressing mixture into the grinder for moisture as you work.
Combine the ham mixture thoroughly with the remaining salad dressing mixture; store covered in refrigerator until serving time.