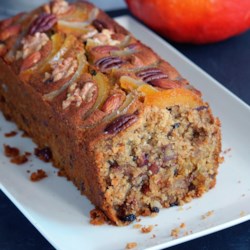 Gluten-Free Fruitcake
Recipe By:
Buckwheat Queen
"A dense cake filled with dried nuts and fruits and spiked with spiced rum that just happens to be gluten free. It will change your mind on fruitcakes. No re-gifting here!"
Ingredients
1/4 cup raisins
1/4 cup golden raisins
1/4 cup dried cranberries
1/4 cup dried cherries
5 1/2 fluid ounces spiced rum
1 orange, zested and juiced
1/2 cup brown rice flour
1/2 cup almond meal
1/3 cup potato starch
1/4 cup tapioca starch
1 teaspoon ground cinnamon
1/2 teaspoon ground nutmeg
1/4 teaspoon ground cloves
1/4 teaspoon ground cardamom
1/4 teaspoon ground ginger
1 teaspoon baking powder
6 dates, pitted and chopped
2 large dried figs, chopped
1/4 cup candied mixed fruit, chopped
2/3 cup butter, at room temperature
1/2 cup raw cane sugar
1 teaspoon vanilla extract
2 eggs, at room temperature
1/2 cup unsweetened applesauce
1/4 cup whole raw hazelnuts
1/4 cup raw walnut halves
1/4 cup raw pecan halves
1/4 cup raw whole almonds
1 ounce candied mixed fruit slices
3 tablespoons cherry brandy liqueur
Directions
Put raisins, golden raisins, cranberries, and cherries in a bowl. Pour rum and orange juice over the dried fruit. Set aside.
Preheat the oven to 325 degrees F (165 degrees C). Butter a loaf pan.
Whisk brown rice flour, almond meal, potato and tapioca starches, cinnamon, nutmeg, cloves, cardamom, and ginger together in a bowl. Set aside 3 tablespoons of this mixture. Add baking powder to the larger portion; mix well.
Combine orange zest, dates, figs, and 1/4 cup candied fruit in a bowl. Sprinkle in 2 tablespoons of the reserved flour mixture and toss to coat.
Beat butter and sugar together with an electric mixer until creamy. Mix in vanilla. Add eggs one by one, beating after each addition. Mix in applesauce.
Drain the dried fruit, reserving the soaking liquid. Add drained fruit to the fig mixture and toss with remaining 1 tablespoon reserved flour mixture.
Mix soaking liquid into the butter mixture. Gradually add flour, stirring just until combined; do not overmix. Fold in hazelnuts, walnut halves, and pecan halves.
Pour batter into the prepared loaf pan. Decorate the top with almonds and candied fruit slices.
Bake in the preheated oven for 1 hour. Reduce oven temperature to 290 degrees F (145 degrees C). Continue baking until browned on top and a toothpick inserted into the center comes out clean, about 30 minutes more.
Remove from oven and let cool for at least 15 minutes before removing from pan. Brush cherry brandy on top. Let cake rest 24 hours for best results.