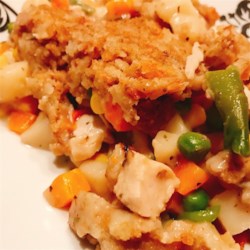 Perfect Pot Pie
"Turkey or chicken pot pie with a stuffing top."
Ingredients
1 pound cubed cooked turkey
3 cooked potatoes, cubed, or more to taste
1 1/2 cups frozen mixed vegetables
1 (10 ounce) can condensed cream of mushroom soup
1/4 cup milk
salt and ground black pepper to taste
1 1/2 cups water
1/4 cup butter
1 (6 ounce) package dry bread stuffing mix
Directions
Preheat oven to 350 degrees F (175 degrees C).
Cook and stir turkey in a skillet over medium heat until browned, about 5 minutes. Add potatoes, mixed vegetables, cream of mushroom soup, milk, salt, and pepper to turkey and mix well; pour into a 2-quart casserole dish.
Bring water and butter to a boil in a saucepan; stir in stuffing mix. Cover saucepan and remove from heat; let stand until water is absorbed, about 5 minutes. Fluff stuffing with a fork. Spoon stuffing over turkey mixture and cover dish with a lid or aluminum foil.
Bake in the preheated oven until pot pie is bubbling, 20 to 25 minutes. Remove lid and bake for a few minutes more for a browned topping, if desired.