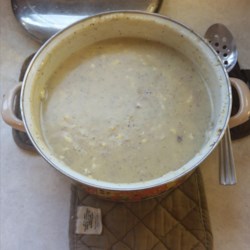 "My Mother has been making this gravy every year at Thanksgiving and Christmas Dinners for about 50 years. It's really good on mashed potatoes, cornbread dressing and the turkey."
Ingredients
1 giblets from a turkey
1/2 teaspoon salt
1/2 teaspoon ground black pepper
1 cube chicken bouillon
1 stalk celery, halved
1/4 yellow onion
1 quart water
2 (14.5 ounce) cans chicken broth
4 hard-cooked eggs
2 tablespoons cornstarch
1/2 cup milk
Directions
In a 2 quart saucepan, simmer the giblets, salt, pepper, bouillon, celery and onion in 1 quart of water for 40 to 50 minutes.
Discard celery, onion and gizzard. Chop liver and neck meat and return to pan. Add chicken broth or if you have a turkey, use drippings (about 1 1/2 cups and 1 can of chicken broth).
Chop eggs and add to broth. Mix cornstarch and milk together and slowly add to broth. Stir well until thickened. Reduce heat to low.