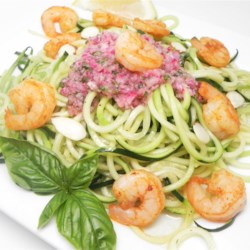 Grilled Shrimp over Zucchini Noodles
Recipe By:
Jenna Robinette
"A great alternative to pasta!"
Ingredients
Lemon Basil Dressing:
2 cups thinly sliced fresh basil
9 tablespoons olive oil, divided
1/3 cup toasted sliced almonds, divided
1 tablespoon red wine vinegar
1 shallot, coarsely chopped
2 cloves garlic, coarsely chopped
1 lemon, zested
1/4 teaspoon red pepper flakes
1 pound shrimp, peeled and deveined
5 zucchini
kosher salt and freshly ground black pepper to taste
Directions
Blend basil, 1/2 cup olive oil, 1/4 cup almonds, vinegar, shallot, garlic, lemon zest, and red pepper flakes in a blender until lemon basil dressing is smooth.
Heat 1 tablespoon olive oil in a skillet over medium-high heat; saute shrimp until cooked through and pink, 2 to 4 minutes. Remove skillet from heat and mix shrimp with 2 tablespoons dressing in a bowl.
Run zucchini through a spiralizer to create spaghetti-size noodle shapes. Add to skillet; cook and stir over medium heat until zucchini noodles are tender, 1 to 2 minutes. Add 2 tablespoons lemon basil dressing and toss to coat. Remove skillet from heat.
Arrange shrimp on top of zucchini noodles; season with salt and black pepper. Top with remaining almonds.