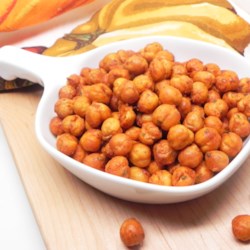 Air Fryer Buffalo-Ranch Chickpeas
Recipe By:
Soup Loving Nicole
"This is a highly addictive spicy snack that is simple to make and will disappear quickly. I recommend making 2 batches. You'll thank me later."
Ingredients
1 (15 ounce) can chickpeas, drained and rinsed
2 tablespoons Buffalo wing sauce
1 tablespoon dry ranch dressing mix
Directions
Preheat an air fryer to 350 degrees F (175 degrees C).
Line a baking sheet with paper towels. Spread chickpeas over the paper towels. Place a layer of paper towels over the chickpeas and gently press to remove excess moisture.
Place chickpeas in a bowl. Add wing sauce and toss to combine. Add ranch dressing powder and mix well.
Place chickpeas in the basket of the air fryer in an even layer.
Cook for 8 minutes. Shake and cook for an additional 5 minutes. Shake and cook for another 5 minutes. Shake and cook for the final 2 minutes. Let cool for for 5 minutes and serve immediately.