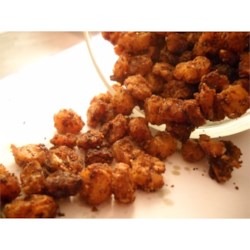 Oven Roasted Hominy
"These are very good. When baked correctly they have almost a Corn Nut(R) consistency. I love garlic powder and chili powder on mine, but feel free to experiment with other seasonings."
Ingredients
1 (15.5 ounce) can white hominy, drained and rinsed
1 tablespoon garlic powder
1 tablespoon chili powder
1 tablespoon vegetable oil
Directions
Preheat an oven to 400 degrees F (200 degrees C). Line a baking sheet with a sheet of aluminum foil.
Pat the rinsed hominy dry with paper towels and place into a mixing bowl. Sprinkle with garlic powder and chili powder. Drizzle with the vegetable oil, and toss until evenly coated. Spread onto the prepared pan in a single layer.
Bake in the preheated oven, stirring every 10 minutes, until the hominy is crisp and dry, 40 to 50 minutes. Allow to cool to room temperature before serving.