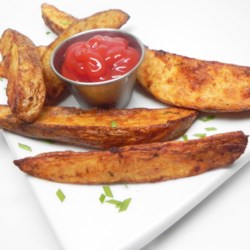 Air Fryer Potato Wedges
Recipe By:
Soup Loving Nicole
"Perfectly crisp and seasoned potato wedges straight out of your air fryer. It doesn't get any easier than this!"
Ingredients
2 medium Russet potatoes, cut into wedges
1 1/2 tablespoons olive oil
1/2 teaspoon paprika
1/2 teaspoon parsley flakes
1/2 teaspoon chili powder
1/2 teaspoon sea salt
1/8 teaspoon ground black pepper
Directions
Preheat air fryer to 400 degrees F (200 degrees C).
Place potato wedges in a large bowl. Add olive oil, paprika, parsley, chili, salt, and pepper and mix well to combine.
Place 8 wedges in the basket of the air fryer and cook for 10 minutes.
Flip wedges with tongs and cook for an additional 5 minutes. Repeat with remaining 8 wedges.