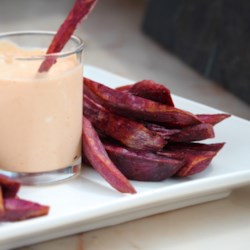 Air-Fried Purple Yam Fries with Sour Cream Sriracha Sauce
Ingredients
1 1/3 pounds ube (purple yam), peeled and cut into 1/4-inch-thick fries
2 teaspoons olive oil
1 teaspoon sriracha-flavored salt
1/3 cup sour cream
2 teaspoons sriracha sauce, or more to taste
Directions
Preheat an air fryer to 320 degrees F (160 degrees C).
Place yam fries into a bowl. Add olive oil and sriracha-flavored salt; toss to coat evenly. Pour into the air fryer basket.
Cook in the preheated air fryer for 16 minutes. Increase heat to 400 degrees F (200 degrees C). Shake basket and cook for 5 minutes more.
Mix sour cream and sriracha sauce together in a bowl. Serve alongside yam fries.