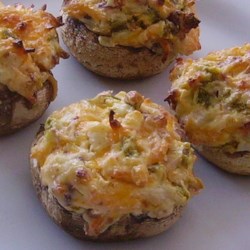 Hot and Spicy Stuffed Mushrooms
Ingredients
1 (8 ounce) package cream cheese, softened
1 cup shredded Cheddar cheese
1/4 cup minced onion
5 slices cooked bacon, chopped
5 jalapeno peppers, chopped
1 teaspoon ground cumin, or more to taste
1 teaspoon garlic powder
30 mushrooms, stems removed, or more as needed
Directions
Preheat oven to 350 degrees F (175 degrees C). Line a baking sheet with aluminum foil.
Mix cream cheese, Cheddar cheese, onion, bacon, jalapeno peppers, cumin, and garlic powder together in a bowl. Spoon cream cheese mixture into each mushroom. Arrange stuffed mushrooms on the prepared baking sheet.
Bake in the preheated oven until mushrooms are tender and cheese is melted, 30 to 40 minutes.