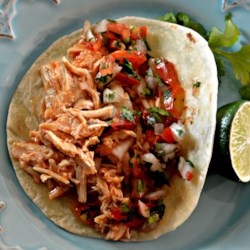 Easy Shredded Chicken Taco Filling
Ingredients
1 pound skinless, boneless chicken breast halves
2 teaspoons vegetable oil
1 tablespoon minced onion
1 pinch ground cumin
1 pinch chili powder
1/4 cup tomato sauce
Directions
Place chicken breasts into a saucepan and pour in enough water to cover. Place over medium heat, bring to a boil, and simmer until chicken meat is no longer pink, 10 to 12 minutes.
Transfer chicken breasts to a bowl, allow to cool, and shred the chicken meat with 2 forks.
Heat vegetable oil in a small non-stick saucepan over medium heat, and cook and stir onion until translucent, 2 to 3 minutes.
Mix in the shredded chicken, cumin, chili powder, and tomato sauce; bring to a boil.
Reduce heat to low and simmer until chicken is hot and the flavors have blended, about 3 minutes.