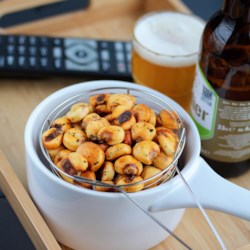 Air Fryer Corn Nuts
Recipe By:
Soup Loving Nicole
"Crunchy, salty, addictive corn nuts made easy and healthier thanks to the air fryer. This is my basic recipe, but feel free to add additional flavors such as Cajun seasoning, ranch powder, BBQ seasoning, chili powder, taco seasoning, etc."
Ingredients
14 ounces giant white corn (such as Goya(R))
3 tablespoons vegetable oil
Directions
Place corn in a large bowl, cover with water, and let sit 8 hours to overnight to re-hydrate.
Drain corn and spread it in an even layer on a large baking sheet. Pat dry with paper towels. Air dry for 20 minutes.
Preheat air fryer to 400 degrees F (200 degrees C).
Place corn in a large bowl. Add oil and salt. Stir until evenly coated.
Place corn in batches in the basket of the air fryer in an even layer. Cook for 10 minutes. Shake basket and cook another 10 minutes. Shake basket and cook 5 additional minutes and transfer to a paper towel-lined plate. Repeat with remaining corn. Let corn nuts cool until crisp, about 20 minutes.