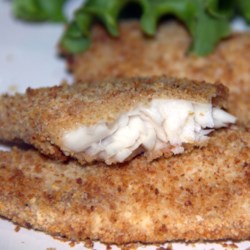 Air-Fried Crumbed Fish
Ingredients
1 cup dry bread crumbs
1/4 cup vegetable oil
4 flounder fillets
1 egg, beaten
1 lemon, sliced
Directions
Preheat an air fryer to 356 degrees F (180 degrees C).
Mix bread crumbs and oil together in a bowl. Stir until mixture becomes loose and crumbly.
Dip fish fillets into the egg; shake off any excess. Dip fillets into the bread crumb mixture; coat evenly and fully.
Lay coated fillets gently in the preheated air fryer. Cook until fish flakes easily with a fork, about 12 minutes. Garnish with lemon slices.