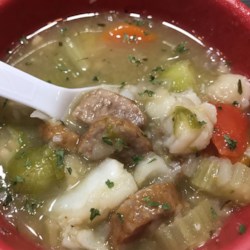 Catfish Gumbo
Ingredients
1 pound catfish fillets, cut into 1 inch pieces
1/4 cup vegetable oil
1/2 cup celery, chopped
1/2 cup green bell pepper, chopped
1/2 cup onion, chopped
1 clove garlic, chopped
2 cups water
2 cubes beef bouillon
2 (8 ounce) cans diced tomatoes
1 (10 ounce) package frozen okra
1 teaspoon salt
1/4 teaspoon red pepper flakes
1/4 teaspoon dried thyme
1 bay leaf
1/8 teaspoon hot pepper sauce
Directions
In a 3 quart pot, bring the 2 cups of water to a boil. Dissolve the bouillon cubes in the boiling water.
In a medium skillet, heat the vegetable oil, and cook the celery, green pepper, onion and garlic until tender.
Add the tomatoes, okra and cooked vegetables to the boiling water. Season with salt, red pepper flakes, thyme, bay leaf and hot pepper sauce. Reduce heat, cover and simmer for 30 minutes. Add catfish, cover and simmer for 15 minutes or until catfish is flaky and tender.