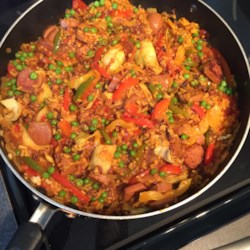 Vegan Paella
"This is a twist on a Spanish-favorite. Use seitan, tofu, or tempeh to add a protein element. I substituted turmeric for the traditional saffron to cut costs."
Ingredients
2 cups boiling water
1 cup white rice
1 tablespoon olive oil
1 onion, chopped
3 cloves garlic, minced
1 green bell pepper, sliced
1 red bell pepper, sliced
1 tomato, diced
2 cups vegetable broth
1 tablespoon paprika
1 teaspoon salt
1 teaspoon ground turmeric
1 cup peas
1 cup drained and quartered canned artichoke hearts
Directions
Mix boiling water and rice together in a bowl; let stand for 20 minutes. Drain.
Heat olive oil in a large skillet over medium heat; cook and stir onion and garlic until onion is transparent, about 5 minutes. Add green bell pepper, red bell pepper, and tomato; cook and stir until peppers are slightly tender, about 3 minutes.
Mix rice and vegetable broth into onion-pepper mixture; bring to a boil. Reduce heat to low and simmer. Add paprika, salt, and turmeric; cover skillet and simmer until rice is tender, about 20 minutes. Stir peas and artichoke hearts into rice mixture and cook until heated through, about 1 minute more.