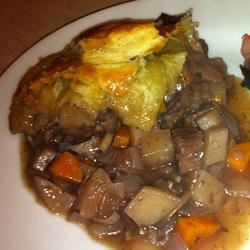 Beef Pot Pie
"This recipe has everything: beef and vegetables in a thick, savory sauce, served up with puff pastry. Nothing in the frozen food aisle comes close to this recipe!"
Ingredients
1 (17.5 ounce) package frozen puff pastry, thawed
4 tablespoons olive oil
1 cup chopped onion
1 teaspoon minced garlic
1 cup raw porcini mushrooms
1 cup chopped carrots
1/2 cup chopped celery
1 potato, diced
1 pound beef tenderloin, cubed
1 bay leaf
1 teaspoon dried oregano
1 cup dry Marsala wine
2 tablespoons chopped fresh parsley
1 egg white
Directions
Preheat oven to 350 degrees F (175 degrees C).
In a large skillet, cook bay leaf, oregano, onions and mushrooms in olive oil until soft. Stir in garlic, carrots, celery, potatoes, and meat.
Cook and stir for 10 minutes, or until meat starts to brown. Pour in wine. Bring to a boil, and reduce heat to simmer. Simmer for 35 to 45 minutes.
Place in pie dish, sprinkle with parsley, and cover with pastry. Brush with egg whites.
Bake at 350 degrees F (175 degrees C) for 45 minutes to 1 hour.