The Ultimate Easy Homemade Enchilada Sauce
Fat: 8g
Saturated fat: 1g
Unsaturated fat: 6g
Carbohydrates: 15g
Sodium: 1277mg
Fiber: 6g
Protein: 5g
Recipe type: Entree
Cuisine: Mexican
Prep time:  5 mins
Cook time:  20 mins
Total time:  25 mins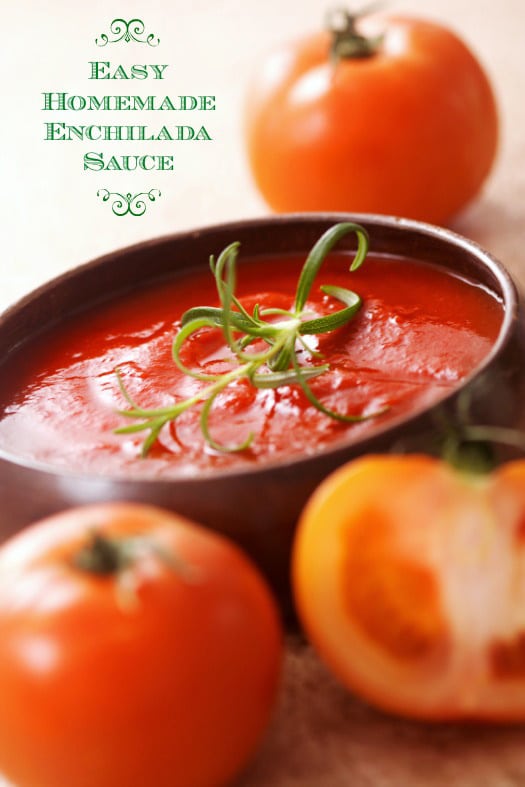 Homemade enchilada sauce is quick and easy to make, with only a few ingredients and fifteen minutes worth of work. Never eat the canned stuff again! Makes about 3 cups of sauce.
Ingredients
2 tablespoons olive oil
1 onion, chopped (about a cup)
3 cloves garlic, minced
2 14.5-ounce cans diced tomatoes
2 tablespoons chili powder
1 teaspoon cayenne
2 teaspoons cumin
2 tablespoons freshly chopped oregano leaves
1 teaspoon freshly chopped rosemary leaves
2 tablespoons lemon juice
1 teaspoon salt
1 teaspoon freshly-ground black pepper
Instructions
In a large skillet, heat olive oil over medium heat. Add onions and cook until browned, about 10 minutes. Add garlic and cook for another minute. Pour onions and garlic into the carafe of a blender and add tomatoes, chili powder, cayenne, cumin, oregano, rosemary, lemon juice, salt, and pepper. Puree the sauce until completely smooth.
Wipe out the skillet with a paper towel to remove any leftover onions. Pour the sauce into the skillet and bring to a simmer over medium heat. Lower heat and simmer for 15 minutes. Salt and pepper to taste and pour over enchiladas.