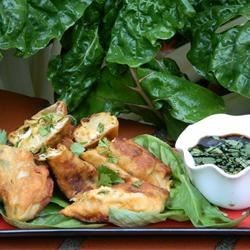 Thai Crab Rolls
"Moderately spiced crab meat rolled into Thai spring roll sheets before quickly 'pan' deep-fried and dipped into a magical, tangy dipping sauce! Arrange on lettuce leaves with the dip in the center for a stunning presentation."
Ingredients
1 pound crabmeat, drained and flaked
1 tablespoon mayonnaise
1 tablespoon tamarind paste
1 bird's eye chile, seeded and minced
2 pinches salt
1 (12 ounce) package spring roll wrappers
1 egg yolk, beaten
1 cup vegetable oil for deep-frying
1/4 cup rice vinegar
1 teaspoon soy sauce
1 clove garlic
2 tablespoons white sugar
15 butter lettuce leaves, rinsed
Directions
In a medium bowl, mix together the crabmeat, mayonnaise, tamarind paste, chile pepper and salt. Spoon about 2 tablespoons of the mixture onto the center of a spring roll square. Fold one corner up just past the filling, and press to seal. Brush the open section of the roll with egg yolk. This does not just seal the roll, it also crisps it. Fold the two corners on either side of the folded corner towards the center. Roll up the filling tightly towards the remaining point. Seal the point with a little more egg if necessary. Repeat with remaining wrappers.
Add enough oil to a heavy skillet to cover the rolls about half way. Heat over medium-high heat until oil is sizzling hot. Fry rolls a few at a time for 45 to 50 seconds, until golden. Remove to paper towels to drain.
To make the dipping sauce, combine the rice vinegar, soy sauce, garlic clove and sugar in the container of a blender or food processor. Process until smooth.
To serve, line a serving platter with lettuce leaves, and place a small bowl of the dipping sauce in the center. Arrange crab rolls on top of lettuce leaves around the dip.