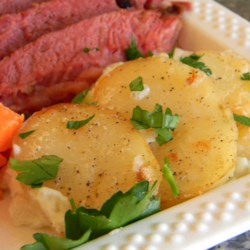 Old Irish Scalloped Potatoes
Recipe By:
Sheila Dortch Stockdale
"A simple scalloped potato recipe passed down from my Irish ancestors, using ingredients you have on hand."
Ingredients
6 potatoes, peeled and thinly sliced
1/2 cup butter, cut into thin slices
salt and ground black pepper to taste
1 pint half-and-half
Directions
Preheat oven to 325 degrees F (165 degrees C).
Arrange thinly sliced potatoes in a 9×13-inch baking dish.
Layer butter slices on top of potatoes. Season with salt and black pepper.
Pour half-and-half evenly over potato mixture.
Bake in preheated oven until sauce has thickened and potatoes are tender, 45 to 60 minutes.