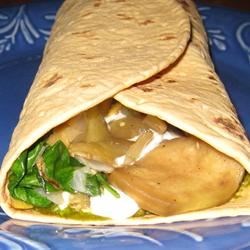 Mediterranean Wrap
"A great wrap for lunch or dinner. Can be made with all sorts of leftovers, like home made pesto, grilled chicken or that avocado that's going to go bad soon."
Ingredients
1 red onion, sliced
1 zucchini, sliced
1 eggplant, sliced
1/4 pound fresh mushrooms, sliced
1 red bell pepper, sliced
1 tablespoon olive oil
salt and ground black pepper to taste
4 whole grain tortillas
1/4 cup goat cheese
1/4 cup basil pesto
1 large avocado, sliced
Directions
Place the onion, zucchini, eggplant, mushrooms, and bell pepper into a large container with a tight fitting lid. Drizzle the olive oil over the vegetables and season with salt and pepper. Close the lid and shake to coat.
Heat a grill pan or skillet over medium heat. Place the seasoned vegetables on the preheated pan, stir and cook until tender, about 10 minutes.
Spread each tortilla with 1 tablespoon goat cheese and 1 tablespoon pesto. Divide the sliced avocado among the tortillas and top with the mixed veggies. Fold in the bottom of each tortilla and roll each up into a snug wrap.