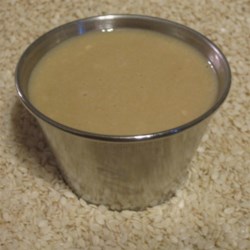 Tahini
"I have always loved making hummus for my family (which usually includes tahini). When I discovered my son was allergic to soy (which is in most all store-bought tahini), I decided to make my own and it turned out even better than any other store-bought brand! Made as described this recipe is Paleo-diet friendly, soy free, dairy free, gluten free, and grain free. Enjoy!"
Ingredients
1/4 cup olive oil, or as needed
Directions
Preheat oven to 350 degrees F (175 degrees C).
Spread sesame seeds onto a baking sheet.
Bake in the preheated oven until seeds are fragrant, stirring every few minutes, 10 to 12 minutes.
Transfer toasted seeds to a blender and add olive oil. Blend until completely smooth, adding additional oil if needed. Refrigerate in a sealed container.