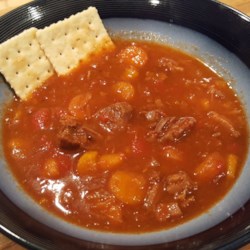 Gulaschsuppe (Goulash Soup)
Recipe By:
DevinsMyNo.1Fan
"My grandma used to make this every weekend. This is the one recipe that brings back some of the best memories."
Ingredients
1/4 cup margarine
1 pound beef chuck, cut into 1-inch cubes
2 cups thinly sliced onion
1 large red bell pepper, sliced
1 large green bell pepper, sliced
1 1/4 cups water
1 (3 ounce) can tomato paste
2 tablespoons paprika
1/4 teaspoon garlic salt
5 cups water
3 cubes beef bouillon
3 tablespoons cold water
1 tablespoon cornstarch
1 teaspoon Worcestershire sauce, or to taste
1/4 teaspoon dried marjoram
1 dash hot pepper sauce (such as Tabasco(R)), or to taste
Directions
Melt margarine in a large pot; cook and stir beef chuck until browned, about 10 minutes. Stir in onion, red bell pepper, and green bell pepper. Continue to cook and stir until vegetables are golden, about 10 minutes more. Add 1 1/4 cup water, tomato paste, paprika, and garlic salt. Simmer until beef is almost tender, about 1 hour.
Stir 5 cups water and beef bouillon into beef and onion soup; continue to simmer until beef is tender, about 30 minutes more.
Mix 3 tablespoons cold water with cornstarch in a bowl; pour mixture into soup. Bring soup to a boil, stirring constantly, until thickened, about 5 minutes. Season with Worcestershire sauce, marjoram, and hot pepper sauce.